Make life easier for your guests and help them move around
Improve your guests' experience with a detailed map of your hotel where they'll be able to browse information about all the facilities and services, and even navigate to each point of interest.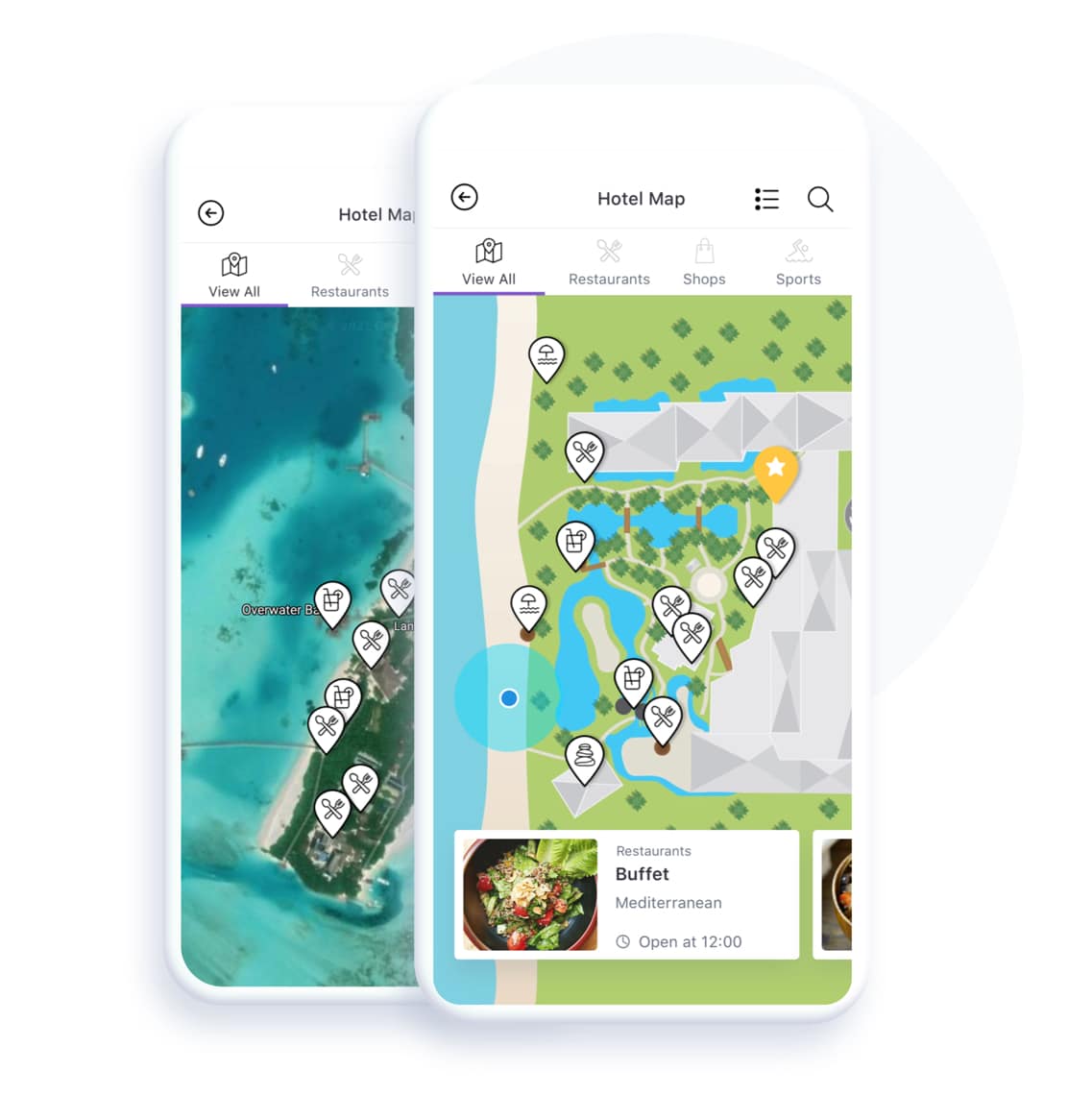 Decide what you want to show
You decide the map's level of detail. Add and configure information for any point of interest you want: restaurants, swimming pools, spa center… Whenever they browse information about any of those services or facilities they will also be able to instantly access its location in the map.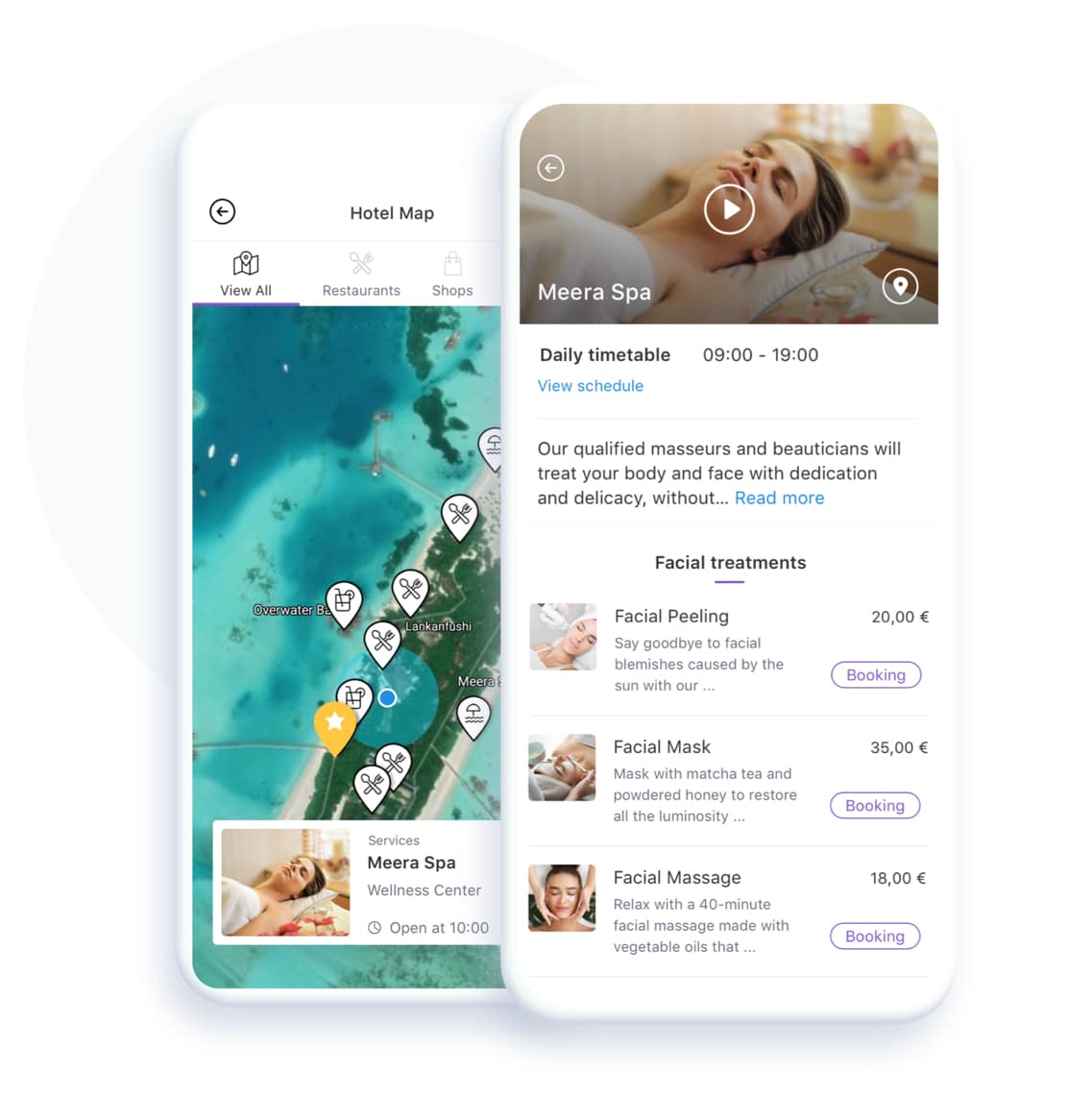 Direct access to every detail
Everything in the map is connected to the rest of the platform. For any point they are viewing, guests can in seconds see its opening schedules, book the service or make an enquiry about it, etc.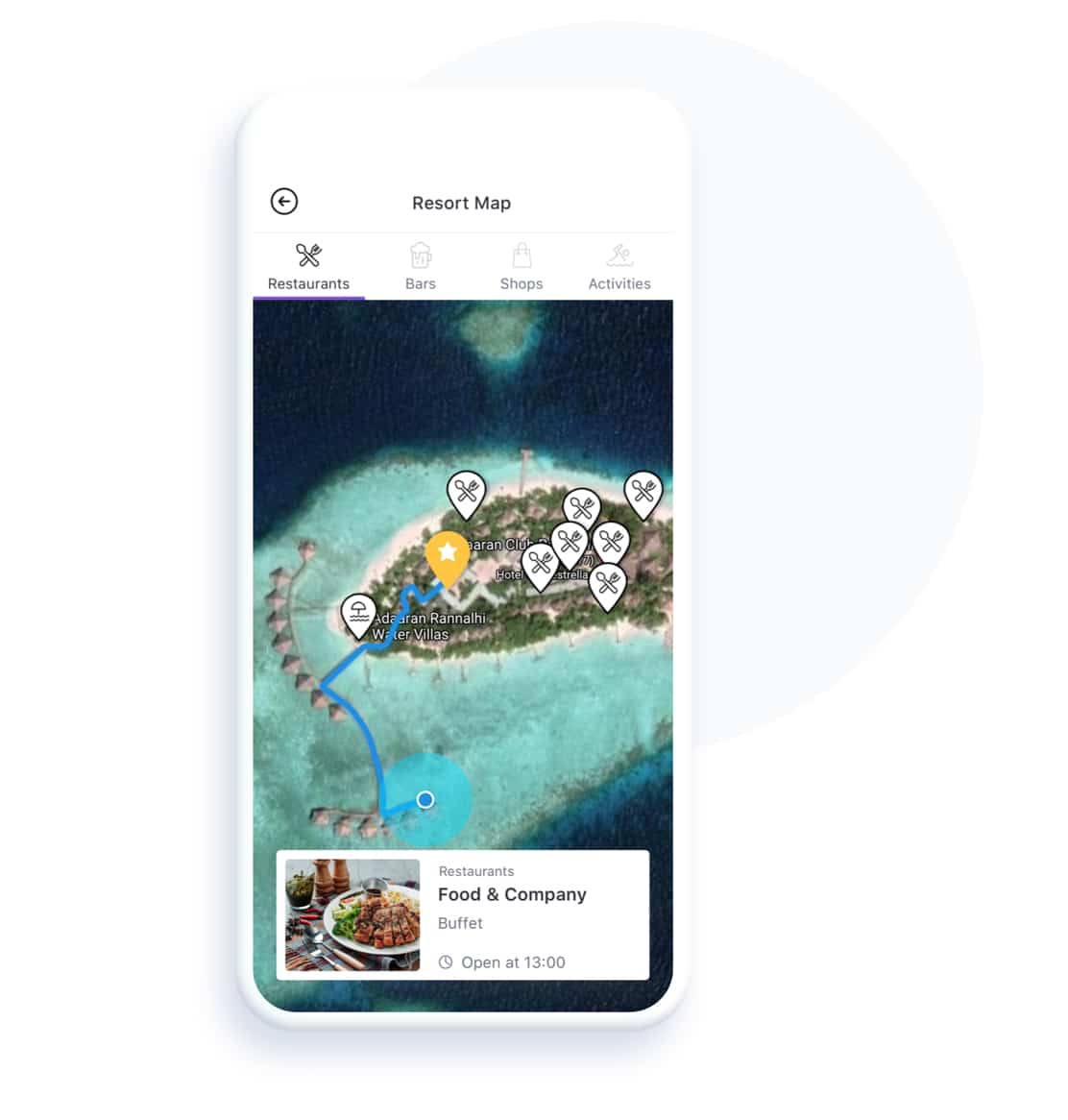 How to get anywhere in the hotel
STAY's maps are built with Google and Apple's map technologies. This means thay they will be able to navigate around your hotel to get wherever they want. No more lost guests asking where the cafeteria is.
Guests can jump from the map to the service's details and information and back in seconds with a single tap on their smartphones.
Share different maps with your guests, as many as you want: for your hotels' services, for recommendations of things to do around the hotel.
Goodbye paper maps. Hello interactive maps always available in guests' phones with detailed information and navigation options which make your customers' lives so much easier.
Your map should look the way you want. Customize your icons, group points or choose different map styles to make your map reflect your hotel's brand and personality.
Having all the hotel information in one place and in real time helps our guests make the most of their vacations.
Annete Koelemeij
Manager of Meliá Puerto Vallarta
With STAY we have a complete tool to digitize the experience of our guests during their stay without having to invest in internal developments.
Victor Oliver Rullan
Digital Channels Director of Meliá Hotels International
With STAY our clients make their Room Service orders to their liking. They value it very positively because it is easier and more comfortable for them.
Estelle Vassallo
Deputy Hotel Director of NH Collection Gran Hotel Calderón
STAY offers our clients a more modern and dynamic hotel image, with information that is always updated in real time.
Ramón Rius
Director NH Sants Barcelona
After the crisis of COVID-19, we need to receive all the services we need, as siempre, but veteran of the personal contact. And here STAY has been key.
Ignacio Lendines
General Manager at NH Madrid Nacional