95%
RIU hotels already using STAY
x20
Increase in usage
in 2021, vs. 2019
RIU Hotels & Resorts is Spain's third hotel chain by revenue and fourth by number of rooms. It has 100 hotels all over the world with a specially strong presence in Spain, Central América and great brand recognition among customers in Central Europe. Its hotels are mostly resorts, grand resorts and high end urban hotels.
Digitizing the guest's experience also during their stay
When STAY became a part of RIU's digital ecosystem in 2017, the chain already had its own app which allowed customers to book a room with their mobile devices. But the chain was fully convinced that they also had to digitize their guests' experience once they arrived at their hotel, providing them access to all of their services and making it really easy for them to book or order those services. And everything had to be done using the same app.
The implementation of STAY at RIU's hotels had 4 main goals:
Additionally, the solution had to be implemented preserving the processes and workflows of the staff of each hotel. And finally, there also had to be benchmarks and tools to measure how guests were using the solution and how they perceived that it was adding value to their experience.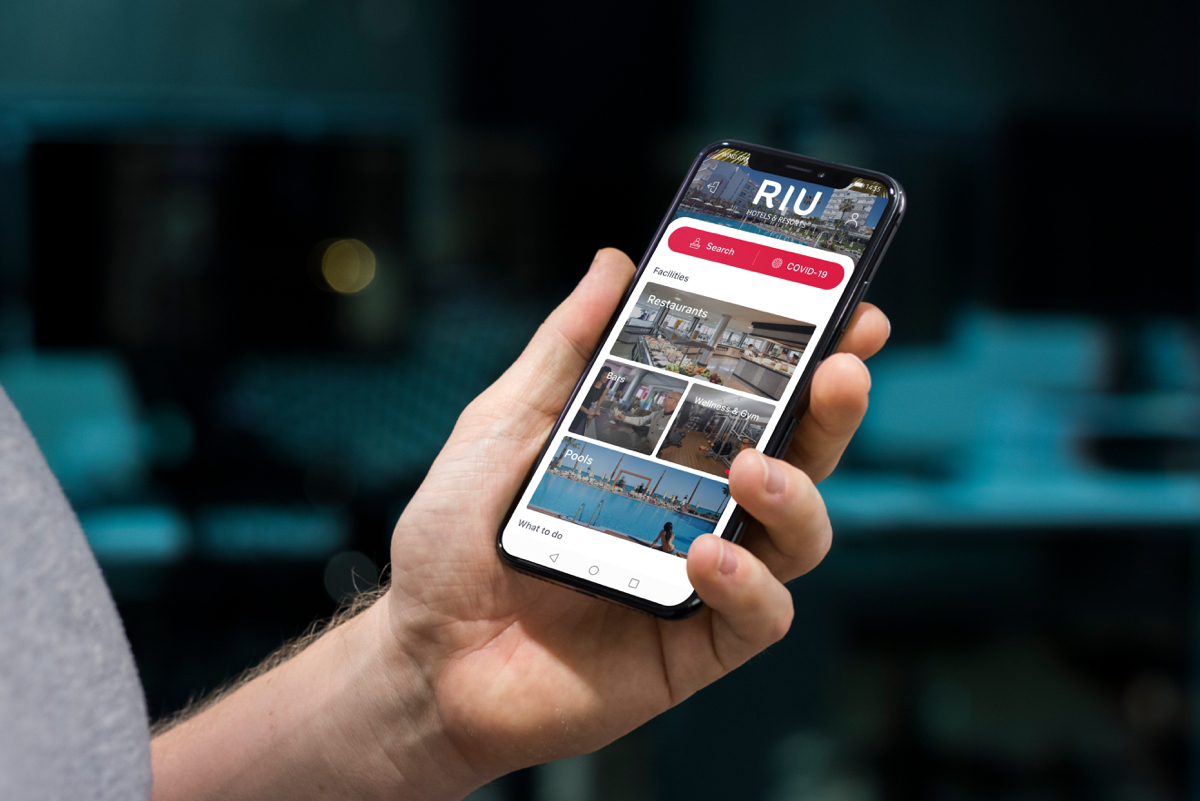 Implementing STAY following Agile principles
STAY was implemented at RIU's hotels following Agile principles: testing, adapting, measuring and iterating again to improve and add value to the brand's guest experience.
The first step was launching the RIU Guest Info App. This app coexisted with RIU's official apps for room reservations, and it allowed guests to check information about the hotel, book services during their stay and report incidences with their room or the hotel's services.
Later, the surveys feature was activated to measure guests' satisfaction with the app and the value it added to their experience.
In the next state, the contents of the RIU Guest Info App (the app provided by STAY) were integrated inside RIU's official app via an embedded web app so all steps of the guest journey would be included in a single digital point of contact. This allows guests to book a room at one of the hotel's chains and once they arrive at the hotel, to manage their stay, all with the same app.
At the same time, STAY worked closely with RIU's staff to develop and implement a process to introduce contents in the platform as fast as possible while intruding as least as possible in the staff's daily activities. This was combined with training sessions and launch dates in order to assure that the implementation process was standard across the whole chain.
Finally, STAY integrated its platform with RIU's Task Management tool so RIU's staff could still use it to manage guest requests and reservations coming through the app.
Unifying all stages of the guest journey in a single app, implementing STAY gradually through iterations, standardizing the process for content introduction and staff training, and activating different features which allowed hotels to offer the same level of service to guests but reinforcing the digital channel were all key elements for a successful rollout of the platform. In the end, guests and staff were able to adapt easily to the new tool, and more importantly, they really perceived the added value STAY provided to their experience and day to day interactions.
"The relation with STAY was very close from the start. They did everything in their hand to run a pilot project which allowed us to correct initial ideas and assumptions until we found the formula we really needed."
Georg Strauch
Corporate Front Office Manager at RIU
Today STAY is already implemented in 95% of RIU hotels
Today STAY is being used in 95 RIU hotels, which is more than 95% of the chain's total hotels. This number increases periodically, since all new RIU hotels open with STAY already incorporated into their daily operations and workflows.
Guest and staff adoption has been excellent, as demonstrated by great usage statistics: the number of transactions made by guests using STAY has increased 20x in 2021, vs the same statistics for 2019.