Top-notch hotel chains trust us
Provide one app for the whole hotel chain
With our app, guests can download and use the same branded app at any hotel within your chain. This makes it easier for guests to access all the relevant information and services they need, no matter where they are.

Plus, guests are more likely to keep the app on their smartphones and use it recurrently, leading to increased loyalty and revenue.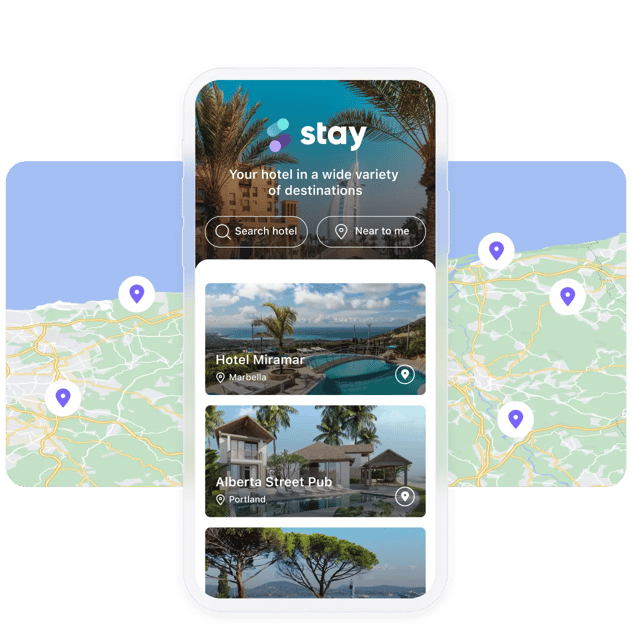 Link it to yourbooking engine
Insert your booking engine in the corporate app to make it really easy for guests to book their next stay.

This will strengthen your direct booking channel and boost your revenue per room booking since direct bookings do not incur commissions like OTA bookings do.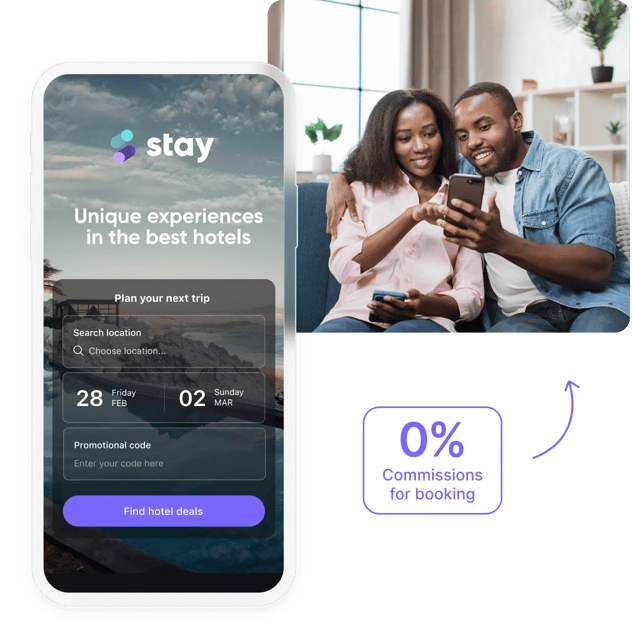 Enable digital room keys
Our corporate app offers advanced guest experience features, including digital room keys that are seamlessly integrated with major lock manufacturers.

By using their smartphones to access their rooms, guests can avoid lost or duplicated key cards, and reduce plastic waste, leading to cost savings and increased sustainability.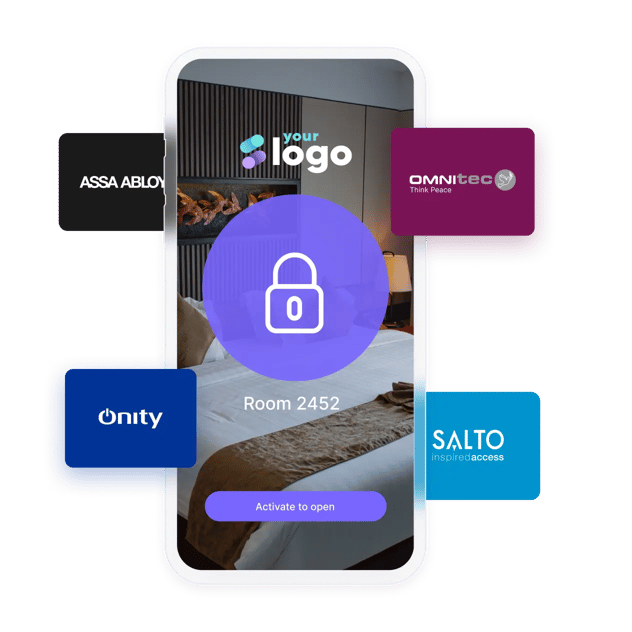 Available for Android and iOS
We will create a branded guest app for your hotel, available on both the Play Store and Apple Store. The app will always be up-to-date with the latest features and readily accessible to your guests.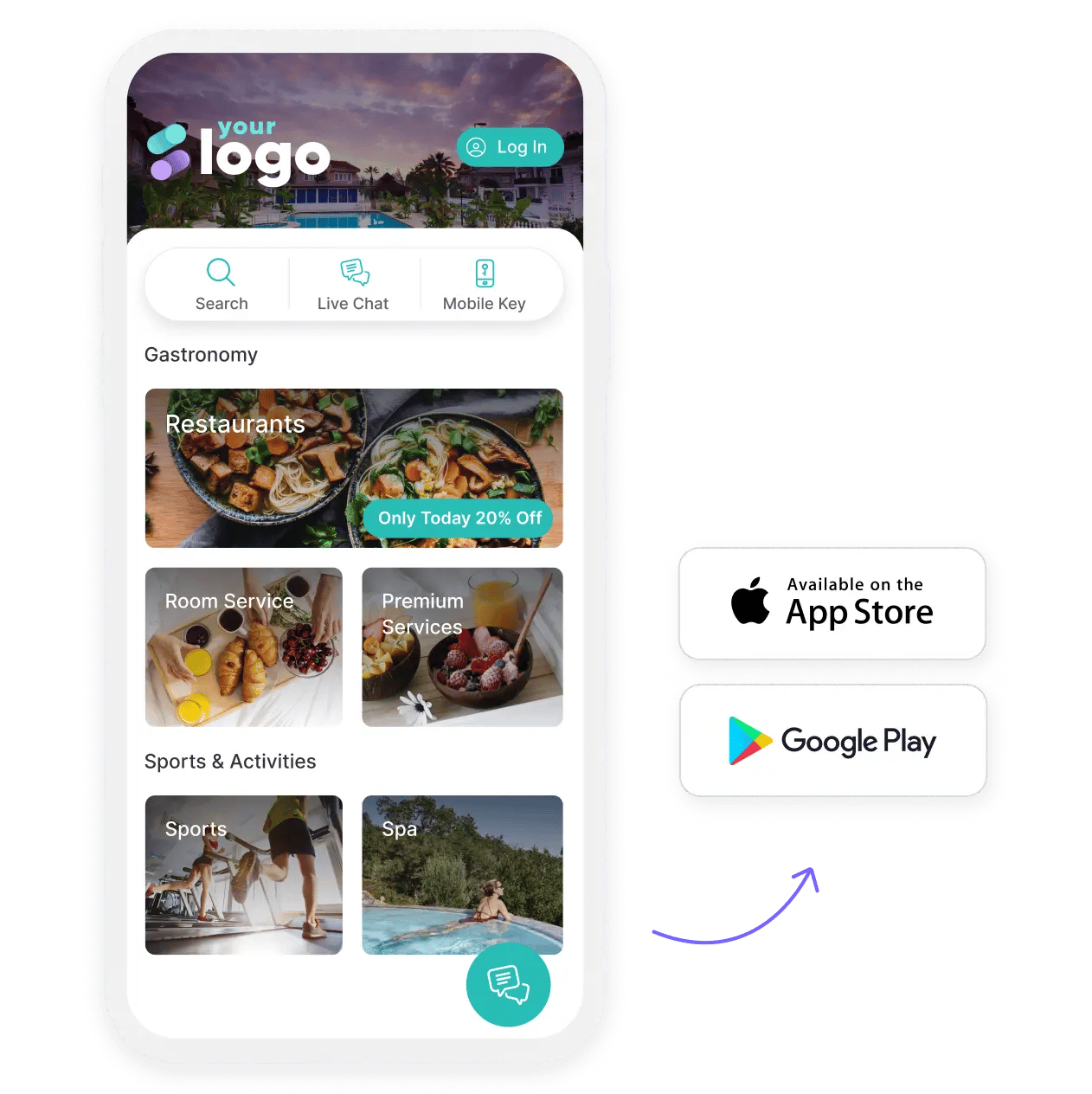 Frequently Asked Questions
What is a hotel corporate app?
A corporate app is an app that guests need to download from the App Store or Google Play on their smartphones.
Like web apps, corporate apps have a personalized design that aligns with the hotel's brand image, but they often have a longer lifespan.
Why is the usability of a corporate app higher than the web app?
While web apps offer high usability and browsing speed, a corporate app can provide an even better user experience.
By using a corporate app, hotels can take advantage of the advanced capabilities of the mobile platform, which can lead to faster performance and smoother animations.
Overall, a corporate app offers a superior user experience compared to a web app, especially for guests who value convenience and speed.
If a new feature is launched, will the corporate app be updated?
Absolutely, any new features or updates will be promptly integrated into the corporate app, ensuring that your guests have immediate access to the latest improvements and enhancements.
How long does it take to develop and launch a corporate app?
It depends on the information collection time from the hotel, which is a joint effort between the hotel/chain and STAY.
During this process, we will need to collect information such as screenshots, descriptions, icons, etc. Once this first phase is completed, we will need an approximate period of 2 weeks to publish the apps in the different stores and get them approved.
Will our guests' personal data be secure when using the corporate app?
We don't ask for any personal information from our guests except for their name, room number, check-in and check-out dates. Our aim is to collect minimal information for a smooth log-in process.
Moreover, we provide a checkbox for our guests to confirm their acceptance of our Privacy Policy and Terms and Conditions, which they must read and agree to before proceeding.
How does the mobile room key work on the corporate app?
Our corporate apps are integrated with the SDKs of major providers such as Assa Abloy, Salto, and Onity (click here for more info).
The process is simple: during check-in, the staff will check the PMS and ask the guest to download the app if it hasn't been downloaded beforehand.
All guests need to do is log in, answer a security question, and they'll receive the digital key. Upon entering the room, guests can click on "Open door" to activate the lock with their mobile phone and access the room.
Does it work in combination with the web app?
Yes. In fact, to increase the number of users, we recommend keeping both types of apps so that users who are hesitant to download the app can quickly access the hotel's information and services.
Having both options significantly increases app usage.