Top-notch hotel chains trust us
The quickest way to access the app
Provide your guests with instant access to all of your hotel services. By scanning a simple QR code or tapping on an NFC, they can access all the information and functionalities to enhance their stay.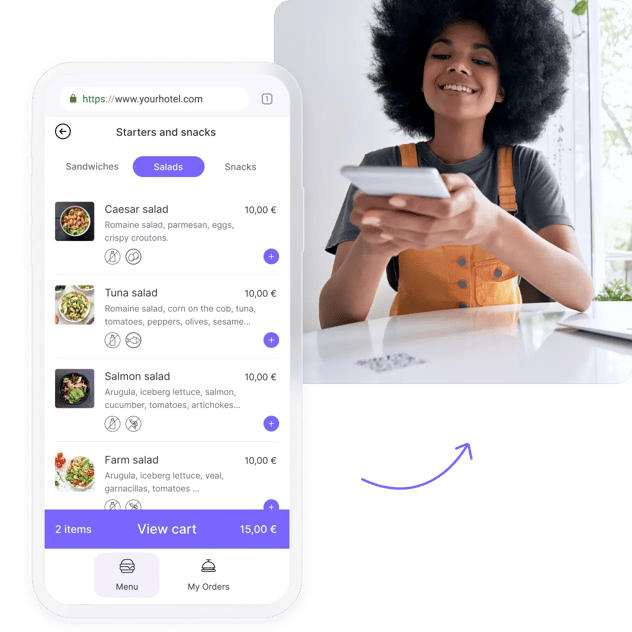 All essential features included
Despite being web-based, web apps do not compromise on functionality. They offer guests all the essential features needed to enhance their stay, including access to hotel information and the ability to submit requests, book services, and even place smartphone-based orders.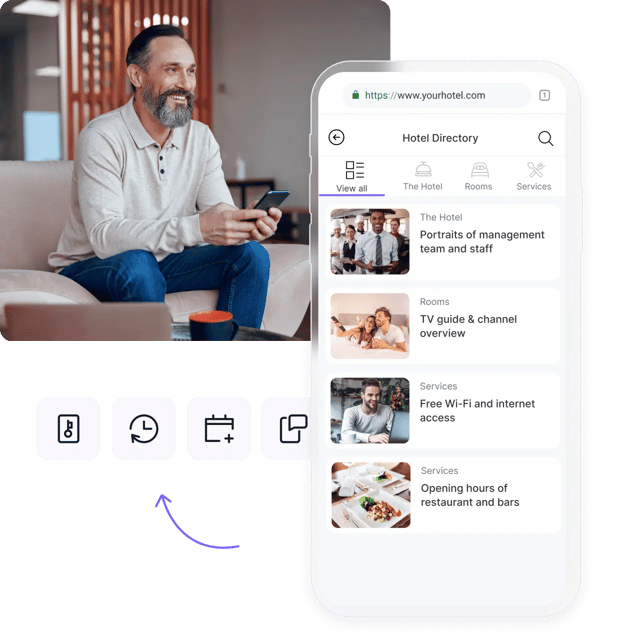 A wise step before going native
Starting with a web app allows for easy transition to a native app. The content of the web app can be seamlessly transferred to a more comprehensive or functional application, making the process very fast.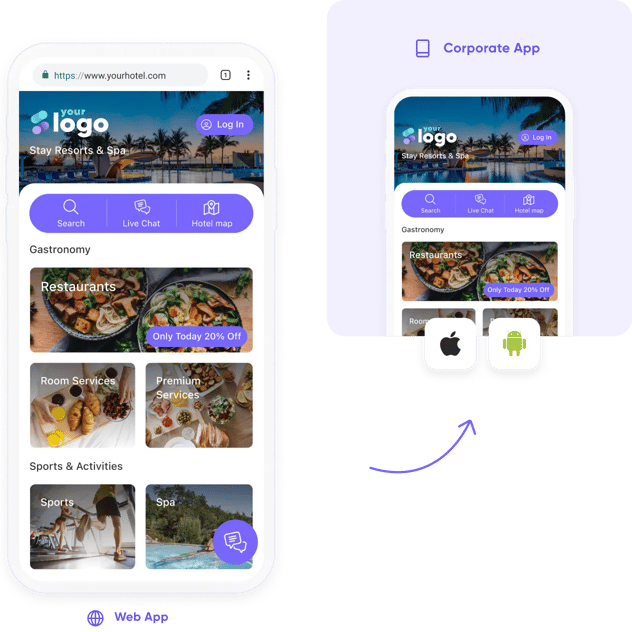 Frequently Asked Questions
A web app is a type of application that can be accessed through a web browser without the need to download or install any software.
For hotels, web apps offer a convenient way to provide guests with access to information and services, such as room reservations, local recommendations, and hotel amenities.
Since web apps are internet-based, guests can access them from any device with an internet connection, including smartphones, tablets, and laptops.
This makes it easier for guests to engage with your hotel and can improve their overall experience.
How can the guest access the web App?
Unlike native mobile apps, web apps can be accessed directly through a web browser without requiring any installation.
This makes it convenient for guests to quickly and easily access information and services from their devices. Guests can simply scan the QR code or tap the NFC holder with their device to instantly access the hotel's web app.
This approach eliminates the need for guests to search for and download a separate app, which can save time and reduce the risk of technical issues.
Can existing QR codes be used to redirect to the Web App?
Yes. You can use the QR codes to redirect your guest directly to the sections you need.
For example, in a restaurant setting, guests can use QR codes on the table to easily access the menu or order food and drinks from the web app.
Similarly, in a hotel room, guests can use NFC holders to access the hotel's services, such as room service or spa reservations.
Will the web app work with any browser?
Yes, the web app is compatible with all major browsers, including Chrome, Safari, Firefox, Edge, and Opera. Guests can easily access and enjoy all information properly on their smartphones via the web.
Are all features included in the web app?
Although the web app does contain all essential features, some may not be available due to technical constraints or compatibility issues.
For instance, features such as push notifications, mobile room key integration, or fast booking may not be accessible on certain platforms or devices.
Can we customize the design of the web app to match our brand identity?
Of course, the STAY web app allows you to customize its appearance to match your brand image.
You can choose the colors, images, icons, and decide which sections to display on the front page. The options are almost limitless.
Can we track user behavior and engagement with the web app?
Yes. Our analytics functionality is fully functional for web apps. This way, you will be able to know how many guests have accessed the app and what interaction they have had with it.
How does the web app handle personal data and privacy concerns for guests?
We only require the guest's name, room number, check-in, and check out dates, and we do not request any personal information.
Additionally, there is a checkbox that guests can click to indicate that they have read and agreed to our Privacy Policy and Terms and Conditions.
Is there a Web App per property?
Yes, each hotel or property will manage its own web app with its own information.
However, if you are a hotel chain, you will be able to manage the different web apps with content and corporate-level information.
This will allow you to maintain a consistent brand image and information across all the apps of your hotels.
Can an access link to the Web App be sent before the guest arrives?
Yes, as long as you proactively communicate it through a digital channel, for example, by sending them a link in the confirmation email.
This way, your guests can discover all the hotel services and be familiar with the facilities before their arrival. And, if it's integrated with your PMS, they can even make reservations prior to their arrival.