Top-notch hotel chains trust us
Unifies the entire guest journey in a single app
By integrating an embed app, hotels can merge all functionalities into one app, making it easier for guests to access everything they need in one place. Guests can easily book a room, order room service, and request housekeeping all within your corporate app.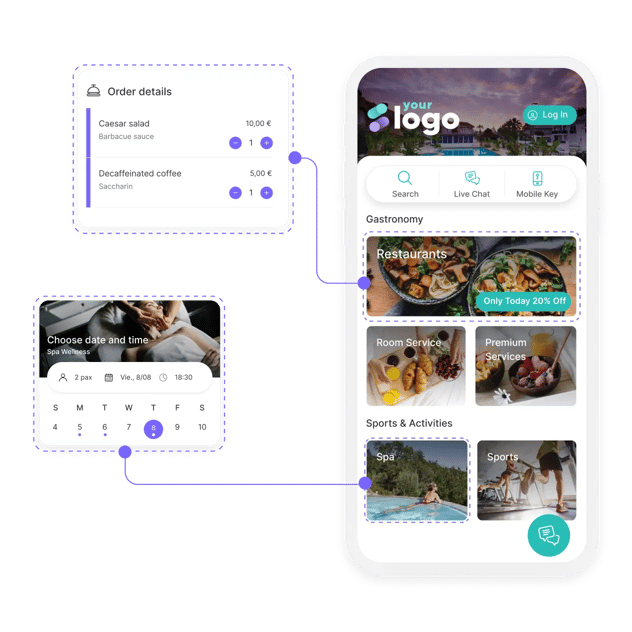 Reinforce your brand identity
Your corporate image is essential. Embedded app technology provides you with complete freedom to leverage all the functionalities of our Guest Experience OS, while maintaining the desired look and feel.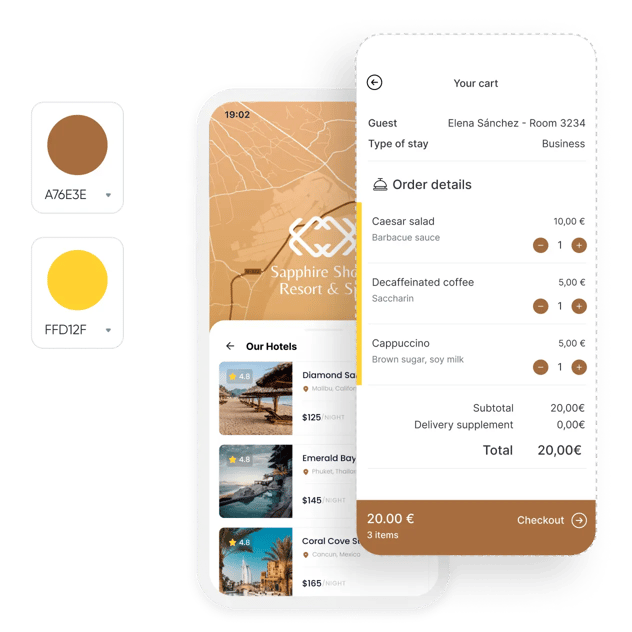 Choose the way to embed your app
There are two different options available for embedding your app.
Integration via Web App
You can load our web app into your corporate app, displaying it as an "In-stay" section with a simple integration process and streamlined updates.
Integration via API
We provide complete customization and flexibility, allowing you to tailor the embed app to your hotel chain's unique look and feel.
Frequently Asked Questions
An embedded app is a type of software application that can be integrated or "embed" within a larger app or platform. In the context of hospitality, an embed app can be integrated into a hotel's existing app to provide guests with access to additional services and functionalities during their stay.
By integrating an embedded app, hotels can merge all functionalities into one app, making it easier for guests to access everything they need in one place. Guests won't have to switch between different apps or platforms to access various services, such as booking a room or enjoying hotel services.
The embedded app can provide a more seamless and convenient guest experience, while also maximizing the initial investment in the corporate app.
For which hotels is an embedded app recommended?
Embedded apps are an excellent choice for hotels that have already taken steps towards digitalization by creating a corporate app, but may lack digital services during a guest's stay.
By using an embedded app, the hotel chain can enhance the functionality of their existing app without disrupting the guest experience. The app will appear homogeneous, even though two different technology providers are involved, allowing the chain to reinforce their brand and provide a seamless experience to guests.
Is the embedded app secure and compliant with data privacy regulations?
As is the case with both web apps and corporate apps, we don't request any personal information from our guests except for their name, room number, and check-in and check-out dates. Our goal is to collect the minimum amount of information necessary to ensure a smooth check-in process.
Additionally, we provide a checkbox for guests to confirm their acceptance of our Privacy Policy and Terms and Conditions, which they must read and agree to before proceeding.
How does the embedded app handle multiple properties within a hotel chain?
In order to implement the embedded web app in a third-party app, the third-party app must be developed to consume certain APIs provided by STAY. These APIs enable the third-party app to obtain the front page for each hotel independently.
Will our guests need to download a separate app to use the embedded app?
No, it won't be necessary. In fact, this is one of the great advantages that this type of app offers because everything is accessible from a single application.
Can we track guest usage and engagement with the embedded app?
Yes, it's possible to track all the usage and results of the guest. When a user enters the STAY solution through the embedded web application, except on the homepage where the third-party application integrated with STAY is displayed, they are actually accessing the STAY platform. Page views and transactions are measured in the same way as in other guest-oriented products.