At STAY, we are constantly striving to provide our users with the best tools and features to enhance their guest experience and improve operations and revenue.
Therefore, we are thrilled to announce the latest improvements to our Insights tool, designed to empower you with more effective data and enable better decision-making for your hotel or chain.

Create reports based on metrics that matter most
We understand that every hotel has unique reporting requirements.
With the new "Reports" feature, you now have the ability to add any metric to your personalized reports. This empowers you with easy access to the data that matters most to you, enabling you to generate insightful reports on your hotel or chain's performance.

Whether you're focusing on response time, transactions, or revenue figures, you can now track and analyze the metrics that align with your hotel's objectives.

Dive deeper into your data with the advanced filter
But wait, there's more!
In order to navigate data with precision, we have introduced a new advanced filtering option. Now, you can filter data by hotel, brand, country, number of rooms, and even property type.
This enhanced filtering feature allows you to dive deeper into specific data of your business and gain a more granular understanding of performance metrics.
Whether you want to analyze the performance of a specific hotel or compare multiple properties within your chain, the advanced filtering feature ensures a seamless and tailored analytics experience.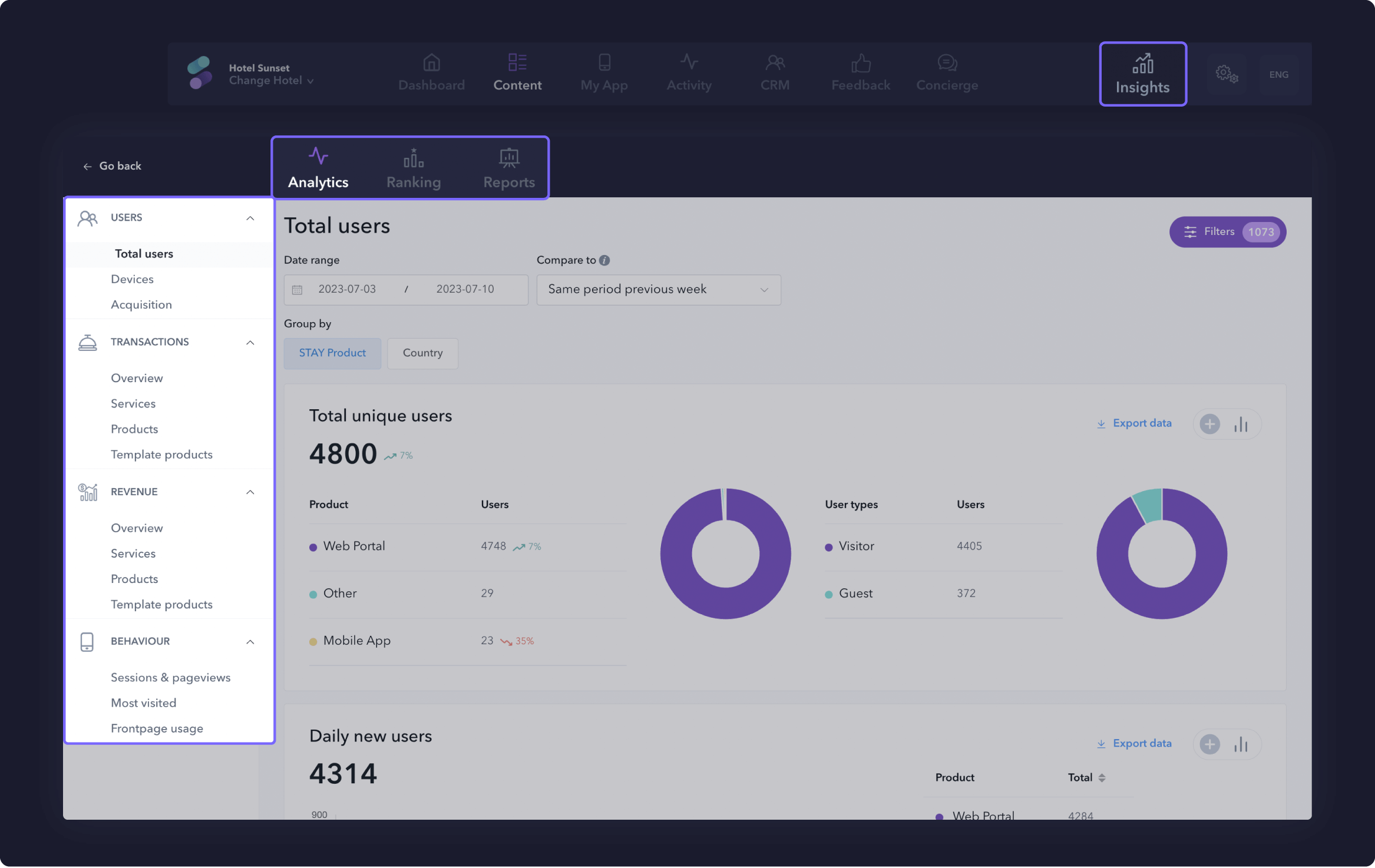 Redesigned visual configuration for a better user experience
We believe that accessing and interpreting data should be a seamless experience. To that end, we have optimized the visual configuration of our analytics platform.
All analytics features are now consolidated within a single menu, offering a centralized hub for your data exploration. We have also reorganized the elements for improved usability, making it even easier for you to navigate through the various analytics modules.
This redesigned interface ensures quick and convenient access to the data you need, resulting in a more intuitive and productive workflow.

​​By leveraging the power of these improvements, you can make data-driven decisions that improve your hotel's performance and elevate the guest experience.