NH Hotel Group is a consolidated multinational operator and one of the leading urban hotel companies in Europe and America. It operates more than 350 hotels in 29 countries under their brands: NH Hotels, NH Collection, nhow, Tivoli, Anantara and Avani.

339
NH hotels have implemented STAY as of today
+ 280k
Users from january to may 2021
+ 78k
Transactions from january to may 2021
Implementing STAY on a large scale and integrating it seamlessly in the chains's processes
In 2019, before the pandemic, NH was already looking for a solution to digitize its guest experience. A pilot project was launched with STAY at an iconic property: Madrid's NH Collection Eurobuilding. The hotel's typology was a great fit for the platform because it offers its guests many customized services. This first pilot experience was really good for testing some of the features and analyzing their metrics to validate different hypotheses and be able to establish objectives and goals for the roll out of the platform on a larger scale.
Taking into account all the learnings of this first pilot, a second pilot project was launched. This time STAY was implemented in a hotel outside of Spain: the nhow Berlín. Despite it being a different type of hotel with different needs and workflows, the solutions and metrics were also really good.
The positive results in these two hotels served as proof of concept to start the first phase of implementing STAY on a larger scale. With the main objective of advancing NH Hotel's digitization process, STAY was rolled out in 8 more hotels. Prior to this, some features were developed and remade to adapt them to these hotels' needs, such as Room Service.
The pandemic supposed a brief hiatus on this first roll-out, but we used this time to work very closely with NH Hotels in defining what the guest experience would look and feel like at their properties once travel restrictions were lifted.
"Implementing STAY during the pandemic was our way of solving the very pressing need we had of transmitting confidence and safety to our guests. It allowed us to go paperless and eliminate elements and aspects which could have been contagion risks, reduce physical contact between guests and staff members, adapt our operations and processes to the pandemic context and inform our guests of all the measures we were taking to provide the best service at such a complicated time".
Sandra Pérez Carracedo
Experience Design & Innovation Director
Once strict lockdown and travel restrictions were lifted and hotels started reopening in the context of the pandemic the challenge became even more demanding: NH needed to implement STAY in a very large number of hotels in very little time to make sure that all of them would be able to reopen safely. During the summer of 2020 up to 10 NH hotels were opened with STAY each week.
Close collaboration between STAY and NH Hotels to ensure a fast, simple and efficient roll-out of the solution
Working very closely with NH was key to successfully overcoming this challenge, because we needed to understand they main needs, pain points and workflows to make sure that the implementation of STAY was painless and easy.
Three main actions were taken:
"STAY allowed us to, in a record time, offer our guests a safe environment and a guest experience adapted to he new situation, making changes in real time whenever they were necessary".
Sandra Pérez Carracedo
Experience Design & Innovation Director
An adaptation in record time in more than 300 hotels
Today STAY is already helping 339 NH hotels to manage their guest experience (51000+ rooms in total). There are plans for rolling STAY out in all of the 20 remaining chain's hotels in the next few months.
A key metric worth highlighting are the room service transactions. This feature was rebuilt working very closely with NH to better adapt it to their needs.
Thanks to STAY we're more efficient while maintaining a high quality service for our guests, something which is key for us and for them".
Ignacio Lendines
General Manager NH Madrid Nacional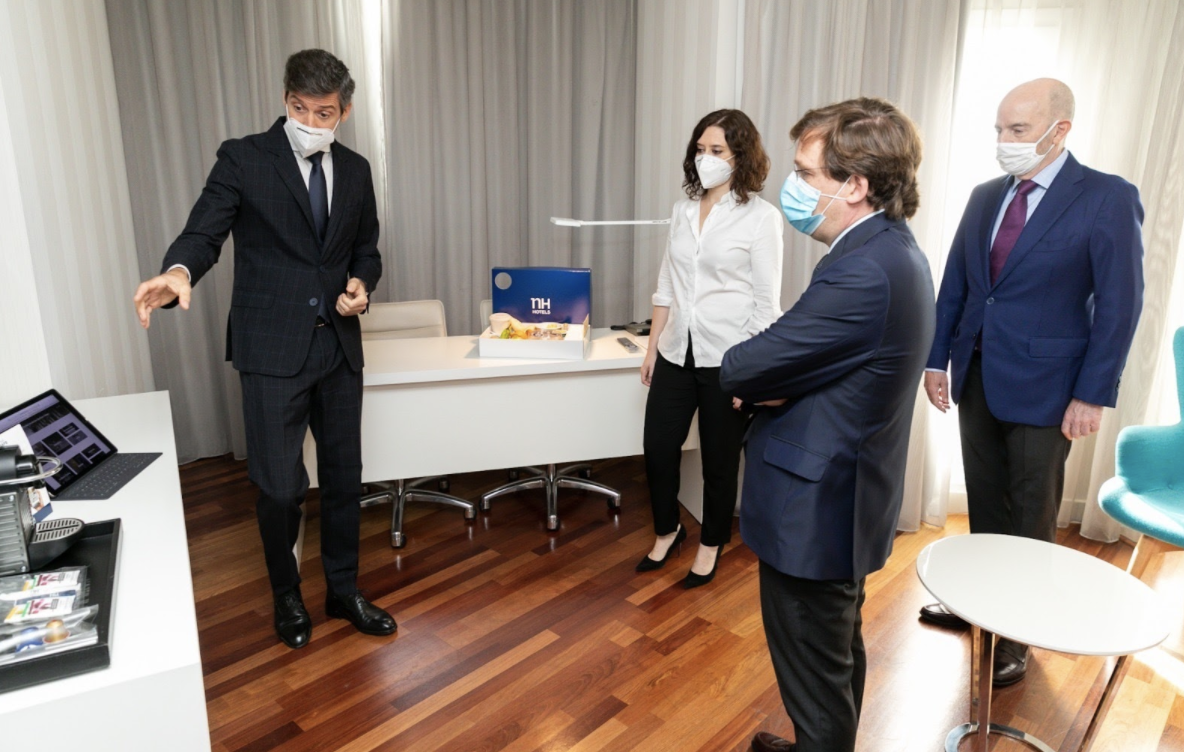 Ramón Aragonés, CEO of NH Hotel Group and Javier Marmol, VP Luxury Operations and Quality, explain to Isabel Díaz Ayuso and José Luis Martínez-Almeida the measures implemented in our NH Nacional hotel when it was reopened after confinement. June 2020.